OVERVIEW \ stylish guesthouse with rooms starting at $75
Perched high upon Calcada do Monte in the historic Graca neighborhood, micasaenlisboa Guesthouse is an architectural gem and an aesthetes dream. Undergoing a radical modern transformation in 2016, Designer and artist Maria Ulecia, created a home and 9 room guesthouse that was light-filled, warm underfoot and curated with vintage finds she collected over the years. The guestrooms, shared kitchen and lounge are furnished with mid-century furniture, antique finds and personal objects d'art, including blown glass pendant lights and custom ceramic tiles. Ideally situated near the Lago de Graca, the winding cobblestone streets are dotted with cafes and restaurants, and within walking distance to many of Lisbon's sights. Micasaenlisboa is the perfect spot for the aesthetically inclined traveller looking for a truly unique stay in Portugal's colorful capital.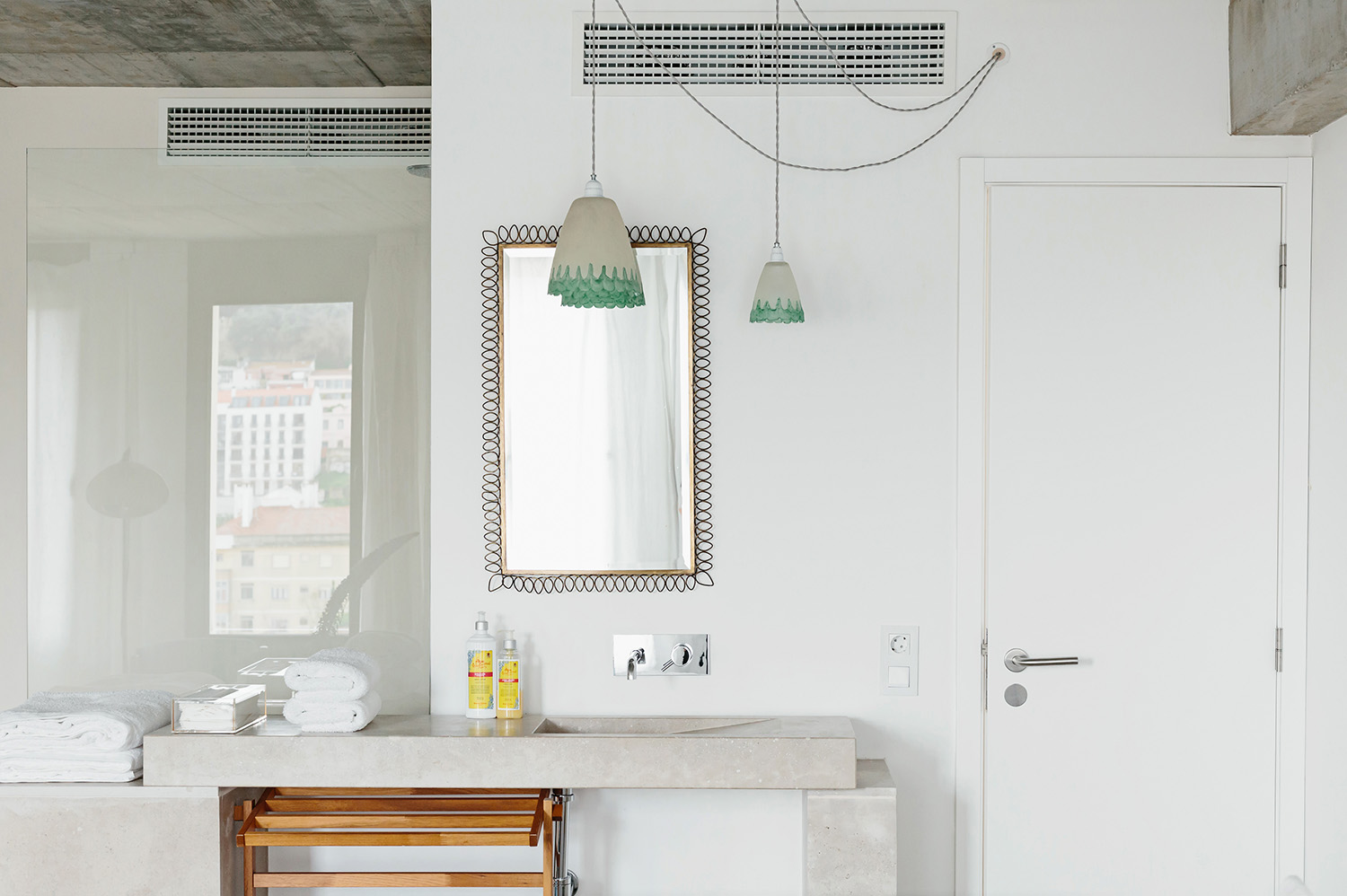 ROOMS
There are 9 en-suite guest rooms spread over 4 floors, each room stylishly decorated with Maria's skilled artist eye. Rooms range in size with varying views, all in shades of whites and neutrals with bursts of vibrant colors and feature mid-century pieces and vintage finds. There are 2 attic rooms with high ceilings and spectacular views, one having an in-room bathtub and the other with a private terrace. Our favorite was the impressive 'Eagle's nest' with a sweeping 15' ceiling and huge private patio overlooking the city with views to the Tagus river. It i surely Lisbon's best private 'Miradouro' boasting a spectacular sight of the close by Castelo Sao Jorge and the Sao Vincente de Fora Monastery.
highlights
A breakfast of fresh bread and eggs, rich coffee, homemade fig jam and baked treats is served in your room, the dining room or the beautiful pebbled courtyard densely peppered with gorgeous Lupines and is the perfect spot to contemplate the day ahead under the gentle morning Lisbon sun.
Home to an extensive collection of vintage finds and commissioned works, Maria has created a gallery of sorts, a story-filled interior woven with histories she earnstly shares with her guests. From blown glass pendant lights that plunge perilously down the centre of the brutalist seeming staricase of viroc - a type of concerete mixed with wood dust which warms and softens the material's typically austere edge - to ceramic tiles designed and handmade by Maria, found in the kitchen and the outer side of the building.
There are weekly in-house dinners with ever-changing Lisbon chefs, where you can learn about Portuguese cuisine and wines
essentials
Wifi, AC, central heating, coffee and tea corner, toiletries
LOCATION
Calcada do Monte 48, Lisbon
RATES
Singles from $105 (down to $75/night for extended stays).
Doubles from $130 (down to $95 for extended stays)
Attic suite from $280 (down to $230 for extended stays)
*Prices are for 2 guests/room/night includes breakfast, coffee bar and taxes
*Most dates require a minimum of 3 night stay
NEED TO KNOW
For children under 2, cots, bathtubs and a highchair are provided free of charge.
Spread over 4 floors, it is tricky for those with limited mobility. The neighborhood is also steep.
There are no safe deposit boxes or tv's in the rooms.
Pet friendly!
IN THE NEIGHBORHOOD...
The surrounding neighborhood which centers around the Lago de Graca is dotted with beautiful winding streets with cobblestone pavements, cafes and restaurants. An area more predominantly local than touristy, many of Lisbon's sights are within walking distance and the famed number 28 tram can be caught in the nearby square for a scenic 10 minute journey down to the centre.
Feira da Ladra, a large flea market, is great for vintage finds.
Pastry lovers must visit Antiga Confeitaria in Belem.
Take a boat trip on the Tagus River.
CONTACT \ booking
Visit their website for booking info and @micasaenlisboa on instagram
*photos by Alex Reyto